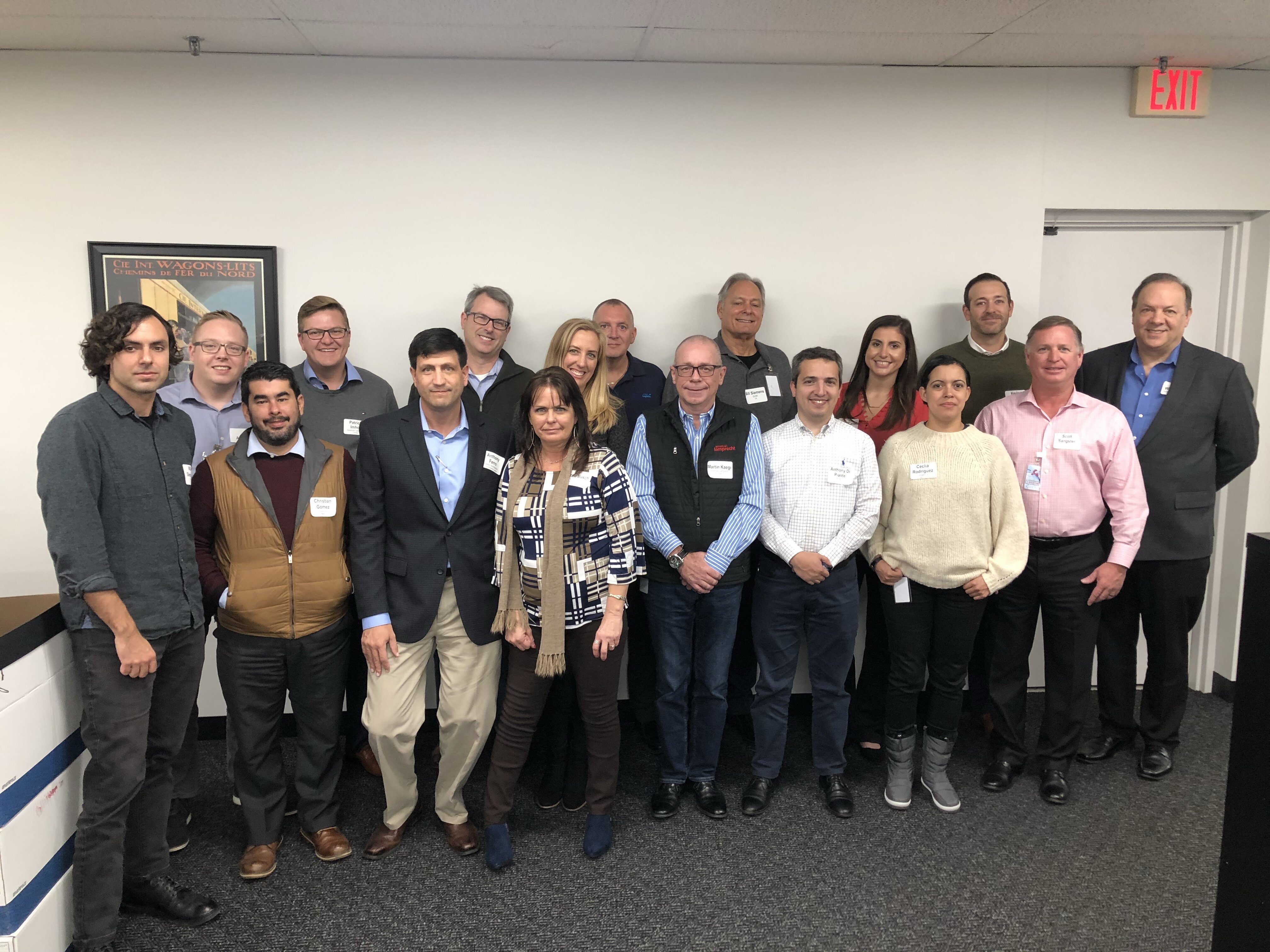 HOW TO COUNTER FLEXPORT: MEETING AND DISCUSSION IN CHICAGO
We held a meeting in the Windy City to discuss Flexport and ways to beat them for new busines. This post will summarize the key points for you.

First off, our thanks to Tina Busch and the team at ALG WORLDWIDE, who hosted our meeting. Also, thanks to Gary Warnecke, the CEO and Partick Imhoff, the COO of AMERICAN LAMPRECHT and the rest of their team for hosting a welcome feast. Now let's get into what are members had to say.

Here's what Bill Sharpe, owner and CEO of ICS CUSTOMS, a Globalink Member, had to say about the meeting;

"Thanks again to the Globalink team, another homerun! The strategic insights and analysis shared during our recent "turning back fFexport" meeting, were impactful and thought provoking. Some of the key takeaways, like the control of client data, certainly raise red flags. We so much appreciate the perspective and the presentation, given we simply don't receive this kind of important input anywhere else"
And, Anthony De Piante, President of NOBLE LOGISTICS, one of our newest Global Value members shared:
"Had a very productive (if cold) meeting in Chicago for the "Flexport Seminar". The presentation was thoughtful, comprehensive, and both qualitative and quantitative. Definitely left with food for thought and some paths of action to take. Enjoyed meeting other agents as well, and was impressed by the breadth and depth of freight forwarding knowledge in the room. Flexport has nothing on Globalink."

It's impossible to capture the value of the discussions, the shared ideas and observations among the attendees, as is always the case in these meetings, so I will simply try to recount some of the key points of the meeting.

If you want the power point presentations just let us know. Here we go.

• In just a few years, Flexport, assisted with a billion dollars in funding, has proven through its amazing growth (15,911% growth over the last three years) that their data driven, cloud based, supply chian focused offering has demonstrated enthusiastic support in the market. Criticizing Flexport from any number of old traditional forwarders perspectives is not only missing the point, but could be deadly for your business.

• Flexport and others are successfully distinguishing themselves from traditional forwarders by expanding their value proposition beyond servicing shipments in motion to managing a client's inventroy in motion. Their claim is that traditional forwarders are actually creating a drag on the supply chain by using spreadsheets and their lack of data.

• This supply chain approach is data driven with a platform that collects data from all the participants in the supply chain, way beyond shipment bookings and deliveries. And Flexport is by no means alone in this. Probably the most disruptive aspect of this trend is that we need to realize that whoever controls all the supply chain data for a client, not only controls the client, but effectively locks out the competition. There is really only room for one player in this role.

• The quest to control the client's supply chain data underlies the efforts, the investment and approach now being taken by a wide range of players in our space including carriers, new digital players, integrators, suppliers, customers and others. All of this accelerates a sense of urgency for us to respond. Have we got your attention yet? Not only is our Industry rapidly changing, but the speed of this change is picking up dramatically. If we're not careful, we could be locked out, made irrelevant.
Jack Ma, the founder of Alibaba, says this:
"Successful people always stay relevant.... They quickly adapt to changes rather than resist. In fact, exceptionally successful people always keep themselves above the curve"
So, how do we counter this trend, how do we protect our business and maybe even exploit this opportunity?

• It's all about perspective and asking yourself, would your client prefer you to manage their shipments in motion, or their inventory in motion? The market has made clear that it's looking for more help, more input and a bigger role from forwarders. All of this assumes you have an online platform for booking and tracking at the very least. If not, you have catch-up to do, and you need to do it fast.

• It's all about the data. We must find ways to integrate with all the players in the supply chain. We introduced Descartes software at the meeting, that has just such an integration tool, that will work with your legacy system or their system. They are not the only ones out there. But Data Integration is the first step. It's also the only way to respond to your clients when they ask you if you can match Flexport's offerings, by the way.

• DATA alone is not the answer by itself. Data must be analyzed, evaluated with the objective being to deliver value added supply chain optimization input to your client that is focused on driving efficiencies and cost savings far beyond freight rates.

• There are many challenges, including the expense, the time and acquiring the expertise to respond, in a rational cost and investment framework.

• There are a few ways to look at this challenge. The only viable ones are to build enough capability to be able to retain your client base, as the appeal of this approach is only expanding. Or, do you look at this trend as an oppurtunity to elevate and differentiate your offerings in your market as a competitive advantage over your competition?

Here is what Tina Bucsh, Vice President, ALG WORLDWIDE, said:

"I want to say thanks so much for coming to Chicago, during our deep freeze to discuss Flexport, to provide insights that we were unaware of and to offer interesting strategies to counter this threat. It really feels like it's time to get serious about elevating our offerings. We really appreciate everything that was shared, and how it opened us up to some new realities."

As to acquiring Supply Chain Support, a few ideas arose:

1. Is there a place for the Network to play a role in Supply Chain analysis, and value-added contributions, rather than each member do this on their own?

2. Have you considered partnering with Supply Chain Consultants?

I'd love to hear your input. Having presented these ideas and this analysis, we believe we can play a role in helping members adapt strategically, and quite possibly elevate the value of the network in this overall effort. From the Network's perspective there is always an opportunity to be stronger together, rather than everyone going it alone.

Gary Warnecke, President/CEO of AMERICAN LAMPRECHT shared this with us:

"It was a great presentation. Here at Lamprecht, I'm making a commitment to train all our personnel more about the upstream and downstream of Freight Forwarding. If they know more about supply chain management, they will see huge revenue opportunities, and then the Global Supply Chain Alliance you are talking about comes into play. I appreciate your forward thinking and many of the ideas and insights shared. Thanks again."
We enjoyed this meeting and encourage you to stay on the look out for more topic focused meetings in the future.
We've been in the industry 20+ years. Don't hesitate to contact us if you're interested in learning more or joining the Globalink or Global Value freight forwarding networks. Email willsiemens@glnk.com or click here.
Want to read more interesting posts about freight forwarding? We recently wrote about WHAT IS A MODERN FREIGHT FORWARDER? and BEWARE OF DIGITAL FREIGHT FORWARDERS LIKE FLEXPORT AND CARGOWISE.