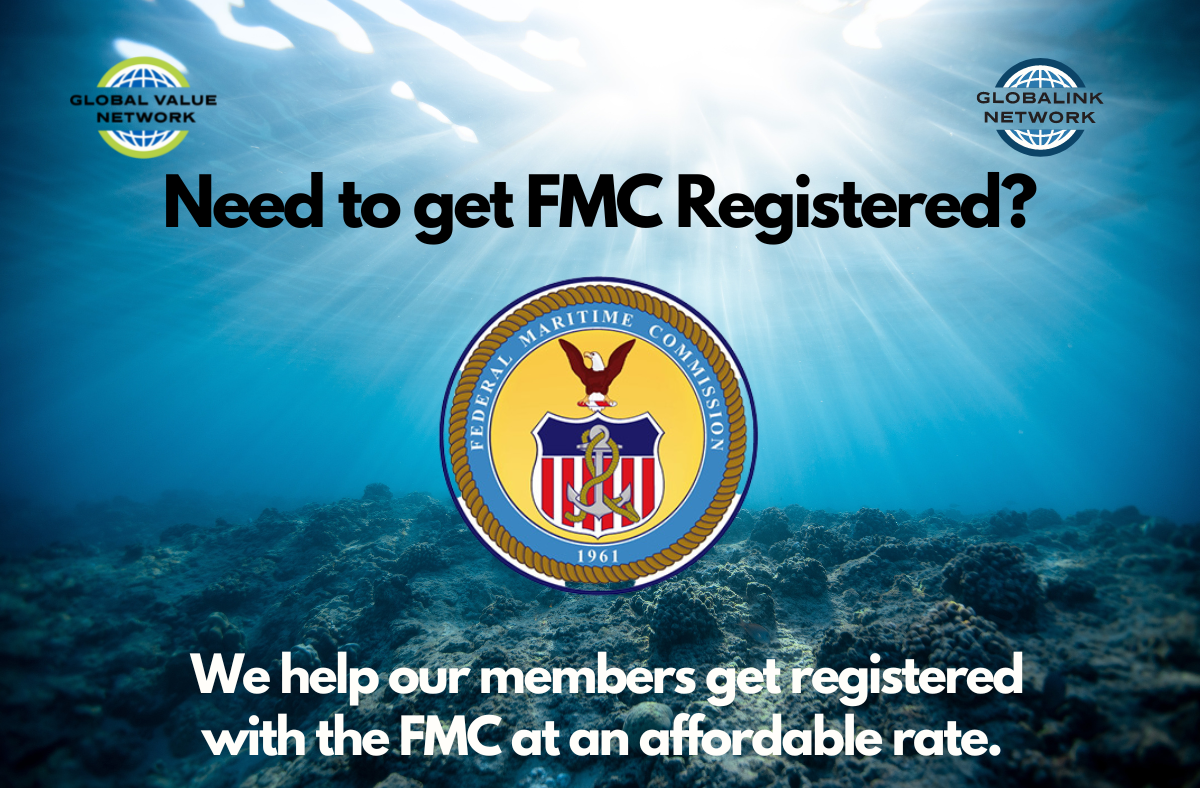 FMC REGISTRATION
The FMC, or the Federal Maritime Commission, plays an important role in ocean freight. According to Investopedia, They ensure a competitive and reliable international ocean transportation supply system that not only supports the U.S. economy, but also protects the public from any deceptive or unfair practices.
To buy or sell sea freight services to or from the USA, a company must be licensed or registered with the FMC. If an agent is not FMC licensed or registered, the agent can't use their sea freight rates to sell sea freight to or from the USA.
The FMC performs several functions designed to ensure the fairness and efficiency of ocean-based shipping. These include:
Reviewing agreements between ocean common carriers, which transport goods across international waters, and marine terminal operators (MTOs), which provide loading, unloading, and storage of items at a port

Ensuring that such agreements do not result in unfair hikes in transportation costs or a loss of services

Offering relief to exporters, importers, and other parties who are harmed by unreasonable ocean shipping practices

Regulating ocean transportation intermediaries (OTIs), which don't transport cargo, but often facilitate shipping transactions

Ruling on disputes that involve rates, classifications, and practices of common carriers, MTOs, and OTIs
Any international forwarder not registered with the FMC is subject to severe fines and penalties if found to be non-compliant.
Obtaining this registration is a great differentiator from competitors in your international market, as most USA agents will not work with unregistered forwarders.
In collaboration with our member Supply Chain Solutions and Roanoke Insurance Group, we offer our members a simplified program to get registered with the FMC without the expensive bond. There is no other forwarder network offering a program like this, but you must be a member of our network to participate.
Fill out the contact form on our website for more information or apply now!
Want to read more interesting posts about freight forwarding? We recently wrote about RELATIONSHIPS AND TECHNOLOGY IN THE FORWARDER INDUSTRY and BUILDING GOOD BUSINESS: A FREIGHT FORWARDER NETWORK MANIFESTO.
We've been in the industry 20+ years. Don't hesitate to contact us if you're interested in learning more or joining the Globalink or Global Value freight forwarding networks. Email willsiemens@glnk.com or click here.